Cabo Frio
Population: 128,828
Distance from Rio de Janeiro: 148 km (92 mi); São Paulo: 594 km (369 mi); Búzios: 24 km (14 mi)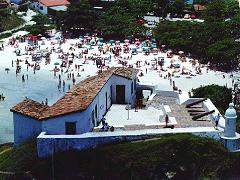 Cabo Frio is the biggest and most developed town in the Região dos Lagos (Lakes Region) of Rio. Do not confuse the city of Cabo Frio with nearby city Arraial do Cabo (14 km distant), nor with the Ilha de Cabo Frio (Island of Cabo Frio, reachable through the Arraial).
Cabo Frio means "Cold Cape"; this name comes from the low temperature of the sea water. This happens because there is a submarine stream coming from South Pole which emerges near the coast of Cabo Frio. There is a constant wind blowing from northeast, which has sculpted fine white sand into dunes.
The combination of salty water and wind has made Cabo Frio to be the major producer of salt in the past (this activity declined much recently).


Cabo Frio - beaches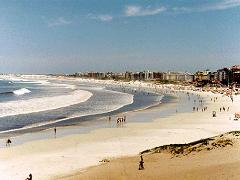 Before going to the beach, check out Gamboa street, known as the Bikini street; Gamboa has more than 200 shops especialized in selling beach wear at low prices: bikinnis, sarongs, sandals, shorts, etc.
The most famous and crowded beach in Cabo Frio is Forte beach, where the fortress of São Mateus was built in 1620; the fortress affords a panoric view of the town. Frequent music shows spring up on the esplanade. In summer, it´s difficult to find a spot to sunbathe, but it is a fine beach for sailor and surfers.

By walking along the Forte beach, one soon reaches the dunes. Be careful not to go to the more distant dunes alone, as robberies have been reported.
Keep on walking to get to Praia do Foguete (Rocket beach), with many summer houses. Powerful breakers make Foguete ideal for surfing and fishing.
Next beach is Brava (Wild), with strong waves, popular with surfers. From there, keep going to go to Peró beach, with spectacular dunes and many kiosks selling drinks and snacks.


Hotels in Cabo Frio
Hotels in Cabo Frio. List of hotels in Cabo Frio.

More sites about Cabo Frio:
Cabo Frio. Detailed page, in Portuguese.
Cabo Frio official site. Maintained by the City Government.



Back to Top