B˙zios
Population: 18,204
Distance from Rio de Janeiro: 176 km; SŃo Paulo: 596 km

B˙zios is the name of a kind of small sea shells which abound along the Brazilian coast. There are people who claim they can tell fortunes by throwing buzios and looking where they rest.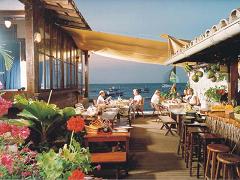 Notice that B˙zios is also commonly referred to as ArmašŃo dos B˙zios.
The city of B˙zios is an idyllic, 8-kilometer (5-mile) peninsula surrounded by clear green waters. B˙zios is also a global village, where people from all over the world meet; many visitors fall in love with the place and decide to stay forever (many businesses are run by foreigners).
In the 1950s B˙zios was a secluded carioc beach retreat that was extremely difficult to get to; in the 1960s, French actress Brigitte Bardott discovered B˙zios and helped transform it into a fashiohnable international tourist destination.
Today, B˙zios has first class infrastructure, with comfortable accomodation, cozy bars, sophisticated restaurants and elegant stores. With more than two hundred hotels and inns, it has lost much of the fishing village atmosphere and glamour of fifty years ago, but its services are the perfect pairing for the informality of the beaches.


Rua das Pedras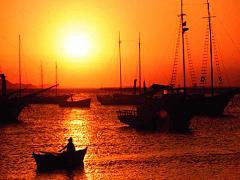 The heart of B˙zios is the so called Rua das Pedras (Street of Stones), a 400 meter (quarter mile) avenue which bisects the town.
The street was named after its rough-cut paving stones, which act as a deterrent to drivers and an encouragement to pedestrians. Famous designer boutiques, sophisticated restaurants and night clubs share space along the street with charmful ice cream parlors, creperies and street artists. Things begin to heat up at sunset.
Notice that traffic of vehicles is difficult all year long, but during peak seasons it becomes chaotic, from the city entrance until downtown (finding a parking space is no easy task). There are trolleys and vans which go about the beaches.


B˙zios beaches
B˙zios has beaches for every taste: with or without waves, deep or shallow, cold or mild, crowded or deserted. Also, the town has four yacht clubs and annually hosts more than a dozen events and competitions, such as the B˙zios Sailing Week. Many boats depart from B˙zios to take tours around the beaches, serving drinks, fruits and snacks on board.

Beaches: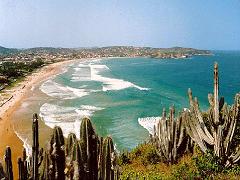 Manguinhos. Good for windsurfing. From Manguinhos one sees Ilha Feia, about 10 km into the sea, a perfect place for scuba diving.
Praia dos Amores (Beach of Love). Deserted, untouched and with calm waters, is good for swimming and nudism; access only by sea or by scrambling along the rocky coastline.
Praia das Virgens (Beach of the Virgins). Also a deserted beach. Access by the sea from the Praia dos Amores, but only at low tide.
Praia do Canto and Praia da ArmašŃo. Dotted with colonial houses and fishing boats, these beaches are unfit for bathing. In ArmašŃo, there is a statue of Brigitte Bardot.
Praia dos Ossos (Beach of Bones). Many sailing and windsurfing competitions take place here. One can take a tour aboard a glass-bottomed boat, to observe marine life. A flight of stairs leads to the Igreja de Sant┤Ana, a church dating from 1740.
Azeda and Azedinha. Access only on foot, from the Praia dos Ossos.
JoŃo Fernandes. Crowded and vibrant, with many rocky outcrops. Many kiosks serving lobster and local fish.
JoŃo Fernandinho. Semi-deserted, with many natural pools formed by the water trapped by the rocks.
Brava. Huge waves, excellent for surfing.
Olho de Boi (Ox Eye). Deserted beach, nudity area. Access only on foot, from Brava beach.
Ferradura (Horse Shoe). Placid bay with kiosks and beach houses. Good for children.
Geribß. Fashionable beach 4 km long, very popular amongst youngsters. Many bars and restaurants.


Hotels in B˙zios
Hotels in B˙zios. List of hotels in B˙zios.
Hoteis e Pousadas em B˙zios. In Portuguese.

More sites about B˙zios:
Buzios official site. Maintained by the city Government.
Buzios. In Portuguese.


Back to Top