Advertising by Google
Boa Vista, Roraima
Area: 5687 km²
Population: 221 027 inhab. (est. 2003)
Check out map of Roraima.

Situated on the western bank of the River Branco, 220 km from Brazil's border with Venezuela, Boa Vista is the capital of Roraima. The name Boa Vista means "Nice Sight" or "Nice View". It is the furthest state from the Federal Government being 4,275 km from Brasília and around 6,000 km from Rio de Janeiro and São Paulo, Brazil's two largest cities. Its trading links are mainly with Manaus, capital of the state of Amazonas, and with the city of Bonfim, in Guyana (formerly British). It is only between those two cities that road connections exist and the capital is linked with the other regions of Brazil by air alone.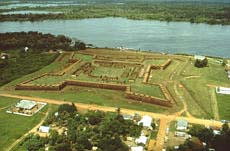 Boa Vista is a planned city but because of its geographical location, far away from the country's major urban centres, it has a small population. Thanks to town planning in the 1960s, it is a modern, level city, designed in the form of a fan, with the broad spokes of its avenues converging on the Civic Centre square.

It enjoys a good climate and is a green city, fringed with leafy mango trees and other large trees that thrive in the region. Its main tourist attractions are the beaches situated on the banks of the River Branco, close to the Macuxi Bridge, as well as the Museum House of the Indian in Anaua Park.

Read more about Boa Vista:
Boa Vista official site. Maintained by the city government.
Universidade Federal de Roraima. The Federal University of Roraima, campus of Boa Vista.


Hotels in Boa Vista