Advertising by Google
Travel to Brasilia, Brazil
« Back to Travel around Brazil



Area: 5,789 km2 ; Population: 2,051,146 (2000)


Official website: http://www.distritofederal.df.gov.br/


Important newspapers: Correio Braziliense; Jornal de Brasilia



Brasília, capital of Brazil
There is not a State called Brasilia. According to the Constitution, Brazil is a Federation made up by States, municipalities and the Federal District; Brasilia is just one of the administrative sub-divisions of the Federal District. Most Brazilians, however, ignore the existance of a Federal District, and just call it Brasilia.
Read more about Brasilia.


Other cities in the Federal District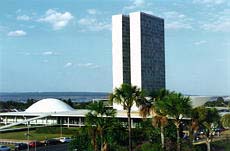 Brazil Parliament
By force of the Constitution, the Federal District can not be divided in municipalities. Instead, the FD is divided in Administrative Regions - AR (whose administrators are nominated by the Governor, i.e., without elections), one of which is Brasilia.
Other ARs are Gama, Planaltina, Sobradinho.


Tourist Attractions and Events in Brasília
Brasilia Music Festival. Focused on techno pop and electronic music.


Culture
Other sites