Advertising by Google
Teresópolis
Population: 138,081
Distance from Rio de Janeiro: 87 km; São Paulo: 484 km; Belo Horizonte: 405 km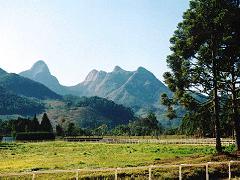 Teresópolis means "city of Teresa", a tribute to Dona Teresa, Dom Pedro II´s wife, who was an admirer of the region´s natural beauty and its mountain climate.
Nowadays, the calmness and climate of Teresópolis have conquered the Brazilian football team: the Granja Comari, main training center of the team, is located in this city; notice that, unfortunately, visits to the training are usually not opened to the public.

While nearby Petrópolis recalls the glorious days of the Brazilian Empire, Teresópolis is better known for its nature and as a base for highland excursions. Teresópolis is the highest town in the State of Rio de Janeiro, nestling in the Serra dos Órgãos at an altitude of 910 meters (about 3,000 feet) and surrounded by a breathtaking landscape of mountains, rivers and waterfalls, all populated by rich fauna and flora. Much of the area is within the protected National Park of Serra dos Órgãos.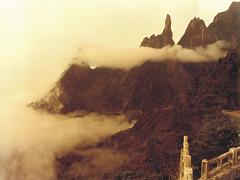 Dedo de Deus
Teresópolis remained untouched for a long time, as the natural bulwark of the soaring mountains and dense vegetation helped keep potential explorers out. The Dedo de Deus (Finger of God), a goal to be reached by all people involved with mountaineering, was climbed for the first time only in 1912.

Tourism in Teresópolis started to take off in 1908, when the railway arrived and the first hotels, inns and restaurants were established. The town became a favorite mountain destination after the road from Rio was opened, in 1959.
In addition to natural beauty, Teresópolis offers local handicrafts in wood, wicker and leather, the woolen clothing and plenty of delicious homemade sweets.


Hotels in Teresópolis
Hotels in Teresópolis. List of hotels in Teresópolis.

More sites about Teresópolis:
Teresópolis.



Back to Top