Advertising by Google
Niterói
Population: 459,451
Distance from Rio de Janeiro: 17 km

Niterói is separated from the capital by the Guanabara Bay. To reach Niterói from Rio, there are two options: taking a ferry leaving from Praça Quinze de Novembro (twenty minutes trip, with a nice view of Rio skyline) or driving along the 14 kilometers of Rio-Niterói bridge (which, for a long time, was the longest bridge of its kind in the world).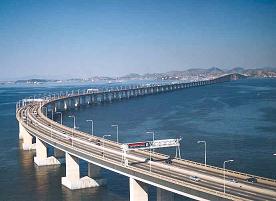 Niterói is the second largest city in the State, an important industrial and commercial center; many people live in Niterói and commute to and from the capital.
The proximity with Rio has been attracting good hotels and restaurants, boosting the tourism sector. Niterói offers good beaches, museums and fortresses. The Icaraí beach concentrates the best restaurants, such as branches of Rio´s famous Porcão and Marius. The São Francisco beach concentrates the nightlife events.

The city main attraction is the Museu de Arte Contemporânea de Niterói (Modern Art Museum), designed by world famous architect Oscar Niemeyer and opened in 1996; shaped like an space ship, the modern lines of the buildings draw attention by itself.
Inside, the Museum exhibits, among other works, paintings by Daniel Senise and the João Sattamini Collection, with works from scores of important Brazilian artists, mostly from the 1980s.
Thanks to Niemeyer´s ingeniousity, this Museum is one of the few where the eyes of visitors are drawn away from the exhibits to the windows; the view of the Guanabara bay is spectacular (the Museum is located by the Bay). Also, the panoramic window encircing the ring-shaped building reveals a new view at every step, including a uniuqe view of the Sugarloaf.


The Niemeyer Route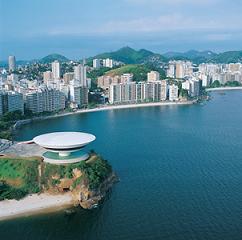 The Museum is the first of the nine buildings which, along with the already open Juscelino Kubistchek Square, will make up the Oscar Niemeyer Route complex. After the complex is completed, only Brasília will have more buildings designed by Niemeyer.

Besides the Museum, the Route will include: the Oscar Niemeyer Foundation, which will house his own collection and an art school; Niterói´s metropolitan cathedral; a Baptist cathedral; a new ferry station, linking Niterói to Rio; a Museum of the Brazilian Cinema; the Roberto Silveira Memorial; a theater and a chapel. Most buildings should be ready by the end of 2005.


Hotels in Niterói
Hotels in Niterói. List of hotels in Niterói.

More sites about Niterói:
Niterói Turismo
NitVista



Back to Top