Advertising by Google
Angra dos Reis
Population: 119,247
Distance from Rio de Janeiro: 168 km (105 mi); São Paulo: 411 km

Angra dos Reis means "Bay of the Kings". This is because it was first reached on January 6th 1502, when Catholics celebrate Epiphany, the Day of the Three Kings. The place makes justice to its name: even kings would fell under the spell of the beautiness of Angra.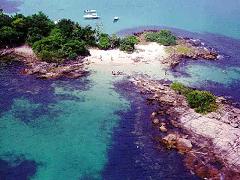 Magnificent, crystal-clear waters, dozens of beaches and a number of islands and islets (365) which would take exactly a year to be visited. The largest of such islands, Ilha Grande, is an attration by itself, seeked by visitors interested in diving and trekking.
Compared with the gorgeous beaches, the small town center looks disappointing. Angra is a city with hills, from the top of which one can see the main economic activities of the region, besides tourism: the piers for construction and repair of large vessels, and the nuclear plants Angra I and Angra II (the only ones in Brazil - Angra III is under construction).
To avoid this central area, the best thing to do is head straight for one of the region´s resorts. Five-star hotels and charming inns offer beautiful views, secluded beaches and modern amenities. Many Brazilian celebrities have summer houses in or around Angra (world famous plastic surgeon Ivo Pitanguy owns an island in Angra), and it´s a popular place for many to usher in each New Year; a traditional event of New Year´s day in Angra is a maritime parade of brightly decorated boats.


Angra dos Reis - Islands, beaches, diving
The largest island in Angra dos Reis is Ilha Grande.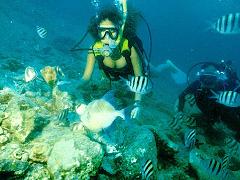 The second largest island, Gipóia, is renowned for its magnificent beaches and its inviting snorkeling spots. It's just a 30 minute boat trip from the Santa Luzia docks in the center of Angra.
If you like bustle, head for Jurubaíba Beach or Praia do Dentista, where floating bars serve snacks and drinks to the boats that crow the area. Juruba Beach, sheltered by hills, a rocky shoreline and a dense native vegetation, is more peaceful and secluded; Juruba can only be reached by canoe.
North beach is small, with fine white sand. Sururu is almost deserted, with strong waves that crash against the reefs. Oeste beach is wilder, with warmer water.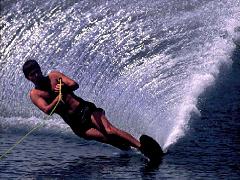 Diving. Angra´s calm, crystal clear waters, its good visibility for most of the year, andits average temperature of 23 C (74 F), make it ideal for diving.
The waters off the rocky shores of Brandão, Josefa, Redonda and Papagaio islands are recommended for sponges, coral and colorful fish. The sea bed off Laje Zatim and the Imboassica, Queimada Grande and Queimada Pequena islands is very similar, while the waters off the Botinas and dos Porcos islands are so abundant in fish and so clear that one can see enormous schools, even from the boat.

The wreck of the Panamanian freighter Pinguino, which sank in the Sitio Forte island in 1967, makes a great diving site. At a depth of 15 to 20 meters (50 to 60 feet), divers can explore its hold, engine room and captain´s cabin.
In Araçatiba inlet, near the Vermelha beach on Ilha Grande, rests the California, a Brazilian vessel that sank in 1866. In Laje Matariz, there is a helicopter 7 meters (22 feet) down, and the water is so transparent that on clear days even snorkelers can make it out. Off one of the bay's headlands is the wreck of the Bezerra de Menezes, a steam driven freighter that sank in 1860.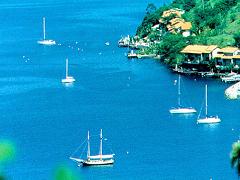 There are plenty of small firms and people offering boats for rent and guided diving tours; make sure you are that you are hiring an agency which will take you to a good location and will be able to provide assistance in an emergency.
Never dive alone. If you lose sight of your partner diver or instructor, surface immediately.
Some agencies provide 3 or 4 day courses, between R$ 400 and R$ 700. Check out some sites: Scuba Point, Scafo.


Hotels in Angra dos Reis
Hotels in Angra dos Reis. List of hotels in Angra dos Reis.

More sites about Angra dos Reis:
»Angra dos Reis. Good page, in Portuguese.
»Angra dos Reis. In English and Spanish.
»Angra Online. In English.



Back to Top