Advertising by Google
Estrada Real - The Royal Route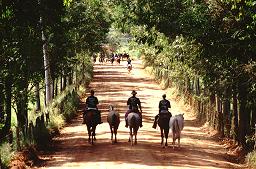 During most of the 17th and 18th centuries, the gold explored in the interior lands of Minas Gerais was the main economic activity of Colonial Brazil; most of the production was sent to Portugal through the coastal cities of Rio de Janeiro.
The Estrada Real is the name of the path that Portuguese expeditions trailed to bring gold from Minas to Rio, and food the other way around; this road had to cross mountains, broad plateaus, meadows and creeks.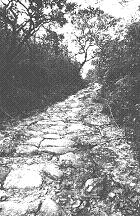 The first route (Old Route) connected Ouro Preto, in Minas, to Paraty, in the south of Rio; from Paraty, the expeditions walked to the city of Rio. This trip took three months.
It worked this way until the bandeirantes Garcia Rodrigues and Fernão Dias devised a shorter route, directly to Rio. In 1698 he obtained a permit fromthe Portuguese Crown to build this "New Route", and began the construction in the beginning of the 18th century. This new route took only ten days to complete; only people authorized by the Crown could travel along it.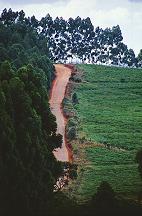 Today, a partnership between the Instituto Estrada Real and the government of Minas Gerais is reconstructing the entire route. The Old and New Routes together total 1,400 kilometers (870 mi.) and cross 177 cities; the road reveals a wealth of colonial and baroque architecture, as well as a natural beauty.
From the heart of Minas Gerais, the Route goes from Diamantina to Ouro Preto, where it splits in two directions.
One route (the Old Route) passes through São João del Rei and Tiradentes, crosses the esoteric São Tomé das Letras, and then Caxambu and São Lourenço in the "Medicinal Waters Circuit", across the Paraíba Valley, through the cities of Guaratinguetá and Cunha, then down to the port of Paraty.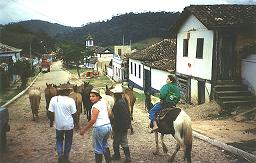 The other path (New Route) crosses Barbacena, Juiz de Fora, Itaipava and Petrópolis before reaching the city of Rio.

Taking the Royal Route is one of the best ways to discover Minas Gerais, while travelling three hundred years back in time.

Visit the official site:
Estrada Real


Back to Top