Advertising by Google
Tiradentes
Population: 5,759
Distance from Belo Horizonte: 215 km (134 mi); Rio de Janeiro: 325 km (202 mi); São Paulo: 483 km (300 mi)


The city was named after Tiradentes, the Martyr of Independence and one of the greatest heroes of Brazilian History; Tiradentes was born on Pombal farm, located between Tiradentes and São João del Rey.

Although it lacks the rich archictecture landmarks which abound in Ouro Preto, Tiradentes has plenty of colorful, harmonious colonial houses. The town seems to have been frozen in time, and attracts tourists seeking both peace and quiet cultural events.
Nestled between the Rio das Mortes (River of the Dead) and the São José mountain chain, the town was practically forgotten between the end of the gold rush period and the 1970s, when business people from Rio helped restore the beautiful old houses. Soon the locals pitched in, and Tiradentes soon became a refuge for artists from Rio and São Paulo.


Tiradentes - tourist attractions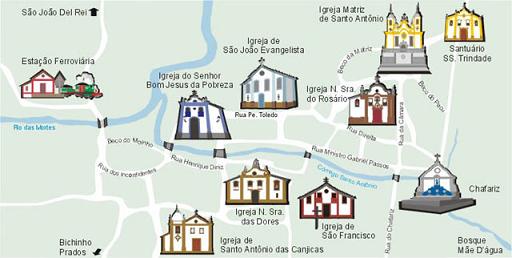 Tiradentes map, from Tiradentes official site.



Igreja Matriz de Santo Antônio. Unlike most towns in the State of Minas Gerais, Tiradentes most important church is dedicated to Santo Antônio (Saint Anthony), instead of São Francisco (Saint Francis). Half a ton of gold was used to decorate its interior, evidenced by the gilded flower garlands on the elegant altars and the chancel. Another highlight is the Portuguese organ, imported in 1788, with the exterior casing, designed in Brazil, covered in rococo carvings and paintings.
A stone staircase leads to the plaza and to a soapstone sundial made by local craftsmen in 1785. The façade and the entrance were designed by Aleijadinho in 1732.

Igreja Nossa Senhor do Rosário dos Pretos. Built by and for slaves in 1708, this church is decorated with a stonework arch, paintings on the ceiling and images of black saints in the two side altars.

Chafariz de São José. Built in 1749, this blue soapstone fountain features an oratory with an image of São José de Botas. Three faces, representing Love, Fortune and Health, spout drinking water from the Mãe d'Água woods, at the foot of the São José mountains.
The 6 kilometer (3.7 mile) trail to the top is easy. Guided tours can be arranged. There is a restaurant close to the fountain, Canto do Chafariz, serving regional cuisine.

Handicrafts. In the district of Vitoriano Veloso, better known as Bichinho, 7 km (4 mi) distant from downtown Tiradentes, fine handicrafts can be found on every corner. Most articles are sold in the Tiradentes shops, but it's worth visiting the village to watch craftsmen at work and buy directly (cheaper) from them.
The most interesting studio is Oficina de Agosto (August Office), run by Antonio Carlos Beach, aka Toti; he trains youth to became professional craftsmen, provided that they attend school.

Steam locomotive stroll. This charming train, called "Maria Fumaça" (Smoke Mary), was inaugurated by Brazilian Emperor Dom Pedro II in 1881, and takes passengers from Tiradentes to nearby São João del Rei.
The 12 kilometer (7.5 mi) ride takes 35 minutes. The winding route passes through areas of Atlantic Rainforest in the São José mountains, an environmental preservation area since 1990. Along the route one can also see stretches of the river Mortes. In April and May the landscape is spotted with small and colorful wildflowers.


Hotels in Tiradentes
Hotels in Tiradentes. List of hotels in Tiradentes.

More sites about Tiradentes:
Portal Tiradentes.



Back to Top