Advertising by Google
Beach Park Resort Hotel - Fortaleza, Ceará
Beach Park, the largest water park in Latin America, is a short trip away from Fortaleza, capital city of Ceara, one of the most popular destinations in Brazil.
The Beach Park Resort, inside the water park, is one of the finest hotels in Brazil.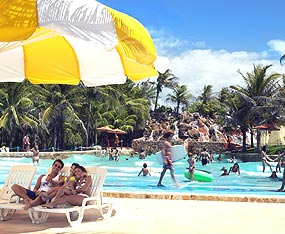 A comfortable and agreeable space for your moments of relax.
Suites which offer comfort and refinement for those who wish the best.
The best of international and regional cuisine. A high standard in quality and service devoted to your satisfaction.
Private beaches. Unique comfort and privacy. Comfortable chaises longues on the sea-shore, an invitation for total relax.
Trips, leisure, fun and a lot of work-out. In the Fitness Club you will be able to keep your shape with highly advanced exercising equipment and specialized instructors.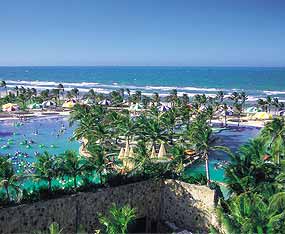 Delight yourself in the pools. A wonderful environment right in front of the emerald green Porto das Dunas sea.
Space for the entire family! At the KIDS environment children can have fun in total safety.
Need to be connected? In the Internet room you will find a fast and efficient connection , be it leisure or business.

Visit the website of the Beach Park to have more information about the Wate Park, the hotel and the convention center (version in English available).

Check out this list of other five star hotels in Ceará, Brazil.



Back to Top