Advertising by Google
Climate in Belo Horizonte

The graph below shows average temperature and accumulated precipitation along the year, in the city of Belo Horizonte, capital of the State of Minas Gerais, in Brazil.

Source of information: Brazilian Institute of Aerospace Research - Weather Forecast.

The orange line shows average temperature, in degrees Celsius; the blue bars show precipitation levels, in milimeters of rain.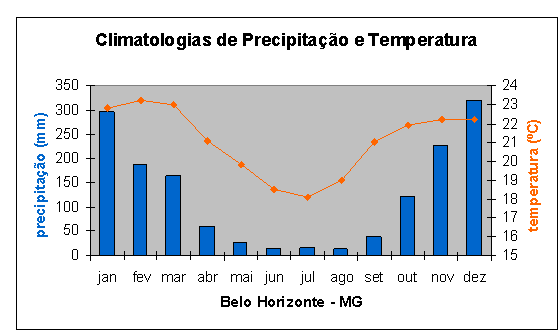 Belo Horizonte is located about 300 km distant from the sea, and is closer to the Tropical Line than the Equatorial Line (see map of Minas Gerais); compared to the northern coastal cities, Belo Horizonte is neither as hot (see climate in Fortaleza) nor so humid (see climate in Manaus).

The graph shows that:
1) Temperature oscilates between 23 degrees Celsius during Spring and Summer (October through March) and 18 degrees during Winter and Autumn(April through September).
2) The climate from April through September is very dry in Belo Horizonte; very little rain is observed. This happens because the city is distant from the sea and from forest zones.

Read more about climate in Brazil.


Back to Top