Advertising by Google
Copacabana Palace - Rio de Janeiro
"For a touch of old-fashioned glamour, nothing compares to the Copacabana Palace Hotel; everything about it, from the wood panelled lifts to the marble stair cases oozes luxury."
York Membery, Financial Times.



A glance through the pages of the Copacabana Palace's Golden Book is enough to confirm the hotel's status among the world's great hotels. Anyone who tries to list the celebrities who stayed at the Copa (as the Brazilians refer to the hotel) will run the risk of raising the rage of so many other famous people who will be forgotten. Anyway, here comes a brief list: John Wayne, Romy Schneider, Carmem Miranda, Mick Jagger, Queen Elizabeth II, Ava Gardner, Anita Ekberg, Marlene Dietrich, Diana Spencer...
Opened in 1923, this impressive stucco fashioned building is the most traditional and luxurious hotel in Rio de Janeiro. This landmark was designed by the French architect Joseph Gire who was inspired by two hotels, the Negresco in Nice and the Carlton in Cannes.
Since opening, it has had only two owners. The construction was comissioned by the Guinle family, of of the most aristocratic in Rio de Janeiro, and in 1989, the hotel became property of the Orient Express Hotels group.
The Copacabana Palace Hotel has recently undergone an extensive discreet refurbishment program, which was designed to retain and enhance the hotel's position as South America's premiere.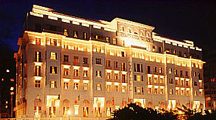 A new method of illuminating the fašade was introduced in 1990 and allows the hotel to shine as brightly by night as it does by the day (see photo). Also, by the end of 1991, the pool area, which houses one of the largest an most attractive swimming pools in town was fully renovated.
Copacabana Palace has two restaurants, The Pergula, situated by the pool area, where guests may enjoy breakfast, buffet lunch, dinner or refreshments, and the Cipriani restaurant, already rated among the city's best, offers a selection of Northern Italian cuisine.
The Hotel occupies an area of over 12.000 square meters by the sea of Copacabana, in Avenida Atlantica, of some of the most expensive and sought after real estate in Brazil; it has 225 bedrooms and suites, 147 of which in the main building and 78 suites in the Annex (tower wing building) which was added to the hotel in 1948 and fully sound proofed in 1992.

Visit the Copacabana Palace website.
Check out other Five Star hotels in Rio de Janeiro.



Back to Top