Advertising by Google
Morro de São Paulo
All images are courtesy of Morro de São Paulo .com.br

Distance from Salvador: 248 km (142 mi), plus a 90 minute trip by boat or 30 minutes by motorboat.
Samll planes fly from Salvador to Morro de São Paulo. There are also a line of boats leaving from Valença, a city a little southern from Salvador; the trip from Valença to Morro de São Paulo takes about 90 minutes.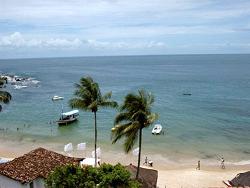 Morro de São Paulo is one of the villages on Tinharé island, which together with Boipeba, Cairu and 23 other smaller islands make up the municipality of Cairu, the only one in Brazil which is spread over an archipelago.
Cars are prohibited. Only some four wheel drives and tractors are used to access the more remote spots, and there are no streets, just alleys.
The village of Morro de São Paulo is an excellent place for the study of contrasts - rustic and sophisticated, with simple restaurants and bars sharing space with boutiques selling top brand products.
Tourism is cosmopolitan and egalitarian. One can come across top models, movie stars, hippies and backpackers. The diversity is also present in its architecture, with everything from simple beach houses to grand colonial mansions.
The inland of the island is taken by the Atlantic Rainforest, a natural protection to the southern part, where one can find many miles of sand, coastal lowlands, marshes and mangrove swamps. The region ca only be reached by four wheel vehicles, tractors or horses.


Morro de São Paulo - Beaches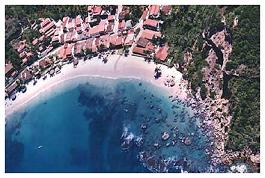 The beaches are named in ordinal numbers, from North to South.
The Primeira Praia (First Beach) is the smallest, 500 meters (1600 feet) long, with soft white sand. Segunda Praia (Second Beach) has natural pools at low tide; this beach is mostly seeked by young people from all over the over, who come for the luaus (parties under the moon light).
Beyond the Terceira Praia (Third Beach), there is a sequence of calmer beaches. Terceira Praia is lined with hotels and inns; the beach nearly disappear at high tide. Quarta (Fourth) is also quiet, with natural pools, crystal clear water and sophisticated inns. Quinta (Fifth), also called Praia do Encanto (Enchantment beach), can only be reached by a tractor from Terceira, or via a trail that crosses two coastal mangrove swamps and two streams.
Further to the south is Garapuá, with pools and a fishing village. At the tip of the island is the deserted Pontal beach, lined with 17 km (11 mi) of coconut groves. Garapuá and Pontal can be reached only by boat, tractor or tour agency jeeps.
On the mainland side of the north tip, facing Valença, is the Gamboa beach, accessible during low tide by a trail that crosses a medicinal mud bath site.


Morro de São Paulo - Historic Places
There is a trail in the island to visit the historic places. It is recommended that this tour start around 4pm, finishing in time for watching the sunset.
Start at Fonte Grande (Big Fountain), dating from 1746. Go down to Praça Aureliano Lima to admire the façade of the 19th century Casarão (Mansion), which currently houses a small hotel. To the right is Igreja Nossa Senhora da Luz, built between 1811 and 1845.
Keep on walking until the Forte da Ponta dos Fachos or Fortaleza Tapirandu, a fortress by the Portuguese constructed in 1630, when the Dutch were invading the Brazilian northern coast; today, the fortress is an excellent spot to watch the sunset and the dolphins. From there a trail up a steep hill leads to the Farol (lighthouse), from 1845, still in operation.
The tour may be finished with a fly on the tirolesa (flying fox), with a drop of 68 meters (226 feet).
The path is not well singed, but the panoramic view of the beaches makes the trip well worthwhile.


Other Islands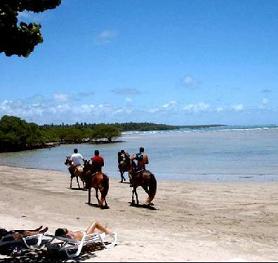 Ilha de Cairu - Cairu Island. Boats depart from Terceira Praia, the Morro wharf or the Gamboa wharf. Destination can be the Coroa Grande sand bar, the almost deserted Ponta do Curral beach, or the very quiet village of Galeão. In Canavieiras there is a tilapia fish farm, fresh oysters and a smokehouse for shrimp. At the Convento de Santo Antônio, built in 1554, the Franciscan friars show the cells and patios decorated with Portuguese ceramic tiles.
Ilha de Boipeba - Boipeba Island. More rustic and primitive, Boipeba has mangrove swamps and beaches with pristine blue water than can be admired from the trails, on foot or horseback. Tour agencies offer day excursions by boat and jeep that depart from Gamboa and Terceira.
Turtles lay eggs in the beaches of Cueira and Tassimirim; some Brazilian magazines have ellected Tassimirim the most beautiful beach in Brazil. Moreré, the next beach, has warm clear water and coral pools forming natural aquariums.


Hotels in Morro de São Paulo
Hotels in Morro de São Paulo. List of hotels in Morro de São Paulo.

More sites about Morro de São Paulo:
Morro de São Paulo.



Back to Top