Hotels, resorts and pousadas in Porto Seguro
«Brazil.
«Brazil Travel Information.
«Hotels in Brazil.
«Hotels in Salvador and Bahia.


Below, links to hotels in the beach city of Porto Seguro, Bahia.

See also: hotels in Salvador, hotels in Caravelas and Abrolhos, hotels in Morro de Sao Paulo.


Hotels in Porto Seguro
»Arraial d'Ajuda Eco Resort


Praia Ponta Do Apaga Fogo - Arraial d'Ajuda - Bahia.

»Brisa da Praia.


Avenida Beira Mar, 1860 - Porto Seguro.
In this modern bulding facing the beach, the large glassed-in areas let in natural light and affor a nagnificent view of the ocean. The corridors are roofed with transparent material. The common areas are decorated with local handicrafts. The rooms are spacious and the suites have two whirlpool tubs: one in the bathroom and one in the balcony.

»Flamingo Beach Hotel


Rua Do Telégrafo, 201 - Praia de Mundai - Porto Seguro..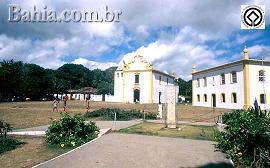 »La Torre. Located 30 meters (100 feet) from the beach, this congenial inn has a small internal garden, a small flowing lake and discreet decoration in the rooms. Access for disabled people is available in all areas. The inn owns its own tent on the beach, with a massage kiosk available.

»Porto Seguro Praia Hotel. This hotel has a beautiful 12-acre wooded area and gardens on the avenue that runs along the beach. The simply decorated rooms are spacious and have large verandahs with hammocks. Five suites have extaordinary ocean views and whirlpool tubs.

»Vela Branca Resort. Situated on the upper city, near the historical site, with a magnificent view of the coastline and the town, this resort has great services and leisure services. It covers a sizable estate of gardens and lawns. Accomodations are available in rooms, duplex rooms, or suites with 2 or 3 rooms.

»Hotel Arcobaleno. On the avenue alongside the beach, this hotel has a high standard of service and facilities. The common area in the front blocks the nooise and music from the Axé Moi beach kiosk nearby. The rooms are distributed in seven blocks, which are painted in rainbow colors. The rooms and suites are large and have balconies and bathtubs.

»Monte Pascoal Praia. Upscale hotel, by the beach. Daily fees include breakfast and dinner.

»Hotel Kalifornia. Ten rooms only, affordable prices.

Hotel Albatroz. Established in 1986. Affordable prices.