Advertising by Google
Serra dos Órgãos National Park
Created in 1939, this national park extends over almost 12,000 hectares of mountainous country, encompassing part of the municipalities of Petrópolis, Teresópolis, Magé and Guapimirim. Most of the Park is clad in the typical vegetation of the Atlantic Forest, but the higher parts are covered with the scrub like vegetation of the highlands.
The peak Dedo de Deus (Finger of God), at 1,692 m (5,500 feet), is the best known landmark; however, the highest point is the Pedra do Sino (Bell Stone), at 2,263 m (7,425 ft).
The Park is a paradise for adventure-sport lovers, and the trails afford spectacular views. On clear days, one can see as far as the city of Rio de Janeiro, glimpsing the Guanabara Bay through the foliage.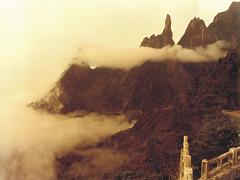 Dedo de Deus
The Park is open to the public from Tuesday through Sunday, between 8am and 5pm, for short trips. At other times, only climbers who have bought tickets in advance can enter.
The best period for hiking is from May to October, while river bathing is better between November and February. Beware of the summer storms (from December to March), as headwater levels tend to rise extremely rapidly and hurtle downwards, abruptly increasing river currents and creating flashfoods that wash away everything in their path.
The Soberbo, the park´s major river, offers wonderful waterfalls for bathing and is the terminus for the most accessible trails. The easiest ones, like Primavera and Mozart Catão, take less than an hour. The route takes less than two hours to the Véu da Noiva (Bride´s Veil) waterfall, located in Bonfim, a canyoning and rappelling spot.
The 2,232 meter (7,300 feet) hike to the top of Pedra do Açu takes about six hours, but the resulting view of Guanabara Bay is well worth the effort.

By far, the most challenging trek is the three or four-day hike across the mountains on the 42 km (26 mi) trail from Petrópolis to Teresópolis, or the other way around. One of the most beautiful scenery trekkings in Brazil. The trail passes by Pedra do Sino and Pedra do Açu; there is a hostel near Pedra do Sino, with hot water.
Professional guidance is strongly advised. Remember that, besides the distance, the altitude may be an issue. Bring cellular phone, torch, cooker, protection against cold, sun and rain, impermeable boots, food and plenty of water.
Prices vary, but everything is cheap. Admittance for visitation and short walks is R$ 3, and a bed on the hostel is about R$ 20.


Back to Top