Advertising by Google
Ilha Grande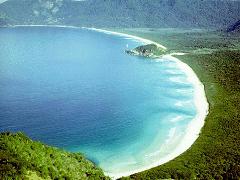 Ilha Grande (Grand Island) is the largest island in the region of Angra dos Reis (the island is under administration of Angra). Angra is about 168 km southwest from Rio, and Ilha Grande is about one and a half hours by boat from Angra. There are boats leaving from Angra and also from the nearby city of Mangaratiba.

Ilha Grande has more than one hundred beaches, some of them reachable as a one-day excursion. To mention a few beaches: Preta beach (Black beach), dark monazitic sand, with the ruins of the old Penitenciary of Ilha Grande, used to imprison criminals and quarentine immigrants early last century; Dois Rios, with yet another old penitentiary closed in 1994; Lopes Mendes, strong waves, good for surfing; Praia do Abraćo, where the boats arrive; Parnaioca, wrecks of a freighter, good for wreck diving; Bananal, yellow sand.
The 192 square kilometers (74 sq. mi.) of the island are clad in lush vegetation; almost every piece of the island is part of one of four Environmental Protected Areas that exist in Ilha Grande. Cars are forbidden, to help with nature preservation; distant hotels provide their own transportation.

Nearly all restaurants, shops and travel agencies that offer excursions are concentrated in the small Vila do Abraćo, where arriving boats make landfall; also in the village, it"s a tradition to dance to the sound of forró. The best hotels, however, are scattered elsewhere around the island and a bit more difficult to reach.


Ilha Grande - trekking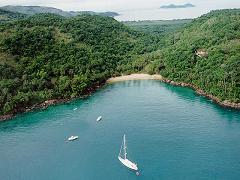 There are 16 beaten trails cutting across the island. Many trails start at Vila do Abraćo and combine stretches of beach and forest. The shortest trails lead to the beaches neighbour to Abraćo, like Preta and Jślia. Some popular trekkings are to Dois Rios (2 hours each way), Cachadaēo (4 hours) and Cachoeira da Feiticeira (Witch Waterfall - 2 hours).
The longest trail is a combination of shorter ones, which rings the entire island (with campings along the way) and takes a week to complete.
The best times of the year for trekking are from May to July and from October to November, when temperatures are mild and rainfall is low.
Although trails are well signposted, it is advisable to go with a guide in the long walks.


Ilha Grande - boat trips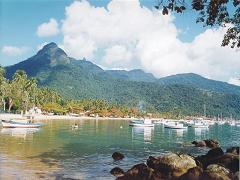 Ilha Grande - Vila do Abraćo
The schooner excursion to Freguesia de Santana offers a marvelous view of the Angra coast; the Igreja de Santana, a church in Freguesia dating from 1796, is considered the area"s most important historic heritage. In addition to the beaches, the excursion visits snorkeling spots in the Lagoa Azul; this small blue lagoon, enclosed by tiny islets, is full of brightly colored tropical fish.
Boat trips also ass through Saco do Céu and Japriz, where the sea is calm and ideal for jet skiing in an area close to the mangrove swamps.
Another interesting trip is to Palmas, with a one hour hike to Lopes Mendes beach and a stop at Morcego island and Abraćozinho.

Read more:
Ilha Grande. Info in Portuguese, English, French and Spanish (links at bottom of homepage).
Ilha Grande. Plenty of photos.



Back to Top