Advertising by Google
Travel to Amazonas, Brazil
Area: 1,577,820 km2 ; Population: 2,182,557 (2000)

Official web sites: http://www.amazonas.am.gov.br.

Important newspapers: A Critica; Other online papers about Amazonas

Map of Amazonas; How to get to Amazonas

History of Amazonas; Economy of Amazonas


Amazonas, State of Brazil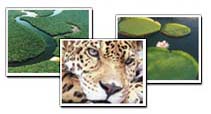 Amazonas is the biggest Brazilian State, with an area of 1,577,820 km2; Amazonas alone is bigger than most countries in the world. Do not confuse the State of Amazonas with the river Amazonas (which cuts through other States of Brazil and other countries).
Also, do not confuse the State with a region called Amaz˘nia (in Portuguese) or Amazonia (in Spanish); Amaz˘nia comprehends all the area covered by the Amazon rain forest (Brazilians refer to the forest as "a Amaz˘nia").
The State of Amazonas is completely located inside the Amazon jungle. Despite recent deforestation, it is also the State with the largest preserved area of Amazon tropical forest.
The rivers are the main means of transportation. In the 1970s, the government attempted to build federal roads to integrate the region to the South of Brazil (such as Transamaz˘nica), but the roads were never completed and, of the parts actually built, much was retaken by the forest.


Important cities in Amazonas
Capital city: Manaus.
Other important cities: Parintins, Itacoatiara, TefÚ, Manacapuru.
List with all cities in Amazonas.


Tourist Attractions in Amazonas
The main attraction of the Amazonas is the Nature.
Check out hotels in Manaus and Amazonas.


Culture and Events
Parintins: contest between Caprichoso and Garantido.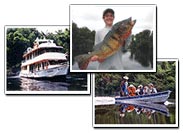 Other sites
Amazon Travel. Flights, tours and loding.

Back to Top