Below, some recommended Executive class hotels in Manaus and the Amazon.

Check out also the list of five star hotels in Manaus.


Executive Hotels
»Holiday Inn Manaus


Av. Rodrigo Otavio, 3775 - Manaus.
The rooms of Manaus Holiday Inn enjoy a stylish and modern interior. Free wi-fi available. Swimming pool with a panoramic view. All with the Holiday Inn standards.

»Park Suite Manaus


Av. Cel. Teixeira, 1320 - Cidade Nova Manaus.
Nice view of the River Negro.

»Caesar Business Manaus


Avenida Darcy Vargas, 654 - Manaus.
The hotel opened in June of 2010.
Mexican group Posadas invested R$ 55 million (about US$ 30 million) in the hotel. "With 229 rooms and 17 floors, the hotel brings the business class concept of the group to the capital of Amazonas, the best city in the region to conduct business".

»Comfort Hotel Manaus


Av. Cel. Teixeira, 1320 - Cidade Nova Manaus.
"The Atlantica Hotels International is the largest independent hotel group in South America. Headquartered in São Paulo and with business in 40 Brazilian cities, it has more than 11,000 apartments in over 70 hotels in the economic, mid-class, superior, luxury and resort categories."

»Century Apart Service


Av. Djalma Batista, 1661 - Chapada - Manaus.
Century Apart Service is 3 miles away from the center of Manaus and 6 miles away from Eduardo Gomes International Airport.

»Novotel Manaus


Avenida Mandii, 4 - Manaus.
"This 4-star hotel in Manaus provides spacious rooms with bathtub and free internet access, as well as various sports facilities (including tennis courts). Relax in the hotel's large swimming pool area with deck chairs, savoring a cold drink from the poolside restaurant with bar".

»Da Vinci Hotel


Rua Belo Horizonte, 240 - Adrianopolis - Manaus.
Da Vinci Hotel is located in the quiet district of Adianopolis, neighbour to Manauara Shopping; the hotel is 15 km (9 miles) away from the airport and 7 km (4 miles) from downtown.

»Adrianopolis Apart Service


Rua Salvador, 195 - Adrianopolis - Manaus.
Excellent location, in the center of Manaus, near Millenium Center Mall.
Hotel offers private parking, wi-fi, apartments have a living room with cable TV, a kitchen and a balcony.

»Lord Manaus


Rua Marcilio Dias, 217 - Downtown - Manaus.
Central location, allows easy access to all important places in town.

»Lider Hotel Manaus


Avenida Sete de Setembro, 827 - Downtown - Manaus.


Wi-fi connection in all rooms.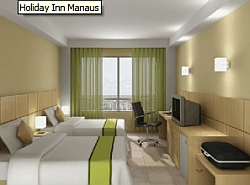 Book a room at the Holiday Inn


Amazon Jungle Hotel.
In Harmony with the Environment.
Only 68 rooms. Book early!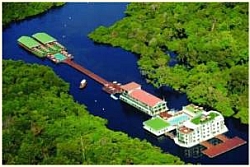 Amazon Jungle Hotel