Below, advertising
Ronaldinho
«Football in Brazil
«Brazilian Players
«Brazil in the World Cups
«Germany World Cup 2006 BLOG

Full name: Ronaldo de Assis Moreira
Date of birth: March 21st 1980.
Height: 1.81 m (5 ft 11 in)
Place of birth: city of Porto Alegre, State of Rio Grande do Sul, the Southernmost of Brazil.

Nicknames: today, he is known as Ronaldinho; the suffix "inho" in Portuguese designates diminutive (Ronaldinho = little Ronaldo).
When he started his career, Ronaldinho was the nickname of Ronaldo Nazário, aka Ronaldo the Phenomenon; to make a distinction, Ronaldinho was called for a long time in Brazil Ronaldinho Gaúcho (gaúchos are the people who are born in Rio Grande do Sul).
Until today, his official homepage is RonaldinhoGaucho.com.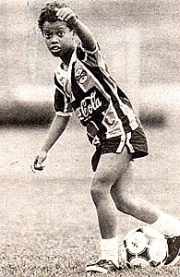 Young Ronaldinho
Ronaldinho started his career as a young child playing indoor soccer, and at age 7 he was already playing in Gremio, one of the two major teams in Porto Alegre (the other one is Internacional); the images shown at these videos were recorded when Ronaldinho was aged 8.
Ronaldinho's brother, Roberto de Assis, was also a successful player of Gremio's (where he was known as Assis). When Ronaldo was aged 9, his father, João da Silva Moreira, died drowned in the swimming pool of the house bought with the money that Gremio gave to Assis, to persuade him from moving to Torino, the Italian team.
Ronaldo's mother, Miguelina, a nursery assistant, started working full time to support her three children: Assis (currently Ronaldo's manager), Deisi (currently Ronaldo's advisor) and Ronaldo.

Ronaldinho had a quick ascension in Gremio; he moved from the juvenile category to the professional team, skipping the juniors category. In the professional team, his first coach was Luiz Felipe Scolari. In 1997, Brazil won the Sub-17 Championship, and Ronaldinho was elected the best player of the tournament. In 1999, the scored the final goal which gave the championship to Grêmio over Internacional.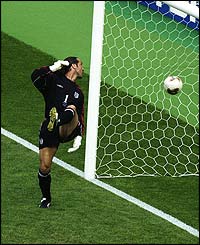 Ronaldinho scores against
England.
See video.
In June of 1999, Brazil was preparing to play the America Cup. The coach of the Brazilian team was Wanderley Luxemburgo; in a match in São Paulo, Edilson mocked at the adversaries; Luxemburgo dismissed Edilson and called Ronaldinho to replace him in the team which played the America Cup.
Ronaldinho debuted for the Brazilian team on June 26th, in a friendly match against Latvia.
In the America Cup, Brazil was easily winning the first match against Venezuela, and in the second half Luxemburgo put Ronaldinho to play. In one of his first participations, Ronaldinho dribbled several adversaries and scored a spectacular goal. From that day, Ronaldinho was securing a place in the Brazilian team.

Soon, proposals from richer teams were tempting Gremio; in 2000, French club Paris Saint-Germain offered 7 million euros. Ronaldinho wanted to move, but Grêmio wanted to wait for the World Cup, hoping that the player would be worth more.
In February of 2001, the contract between Gremio and Ronaldinho finished. The player unilaterally decided to go to Paris. Gremio appealed in courts in Brazil and FIFA.
Ronaldinho did not play until June of 2001, while the case was being settled. In June, FIFA and the Labor Justice in Brazil decided that Paris Saint-Germain should pay 4.5 million euros, and Ronaldinho was released from Gremio.

Ronaldinho spent only two seasons in Paris. There, he let his hair down and gained muscular mass. Some critics say that he was more focused on Paris nightlife than in playing football.
In 2002, Ronaldinho was an important player in the Brazilian campaign of the 2002 World Cup. Ronaldinho scored only two goals, one against China, and the other one, a fantastic lobby, against England in the quarter-finals.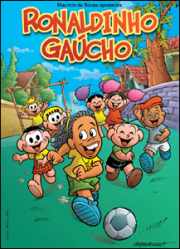 Popular with children,
Ronaldinho becomes
a comics character
In 2003, he transferred to Barcelona. There, under coaching of Dutch Frank Rijkaard, Ronaldinho became more of a forward than middle field; his role was to create and to score, rather than destroying and defending.
After Ronaldinho's arrival, Barcelona finished second in the Spanish League 2003/4, and was champion in 2004/5 and 2005/6. In the 2005/6 season, Ronaldinho played 29 of 36 matches; when Ronaldinho was playing, Barcelona won 81% of the points disputed; without him, the figure dropped to 53%. When Ronaldinho arrived, Barcelona had 103,000 paying affiliates; in 2006, the number had grown to 140,000.

In 2004 and 2005, he was elected by FIFA the World Player of the Year. In 2005, he was the best paid footballer in the world, with income of US$ 29.5 million, including salaries and merchandising.
His image brand is also the most valuable in the world, at US$ 60.3 million market value. Ronaldinho is associated with tens of world brands, the most famous of which is Nike, but including also Unilever, Spanish-Brazilian bank Santander-Banespa and Brazilian giant Ambev.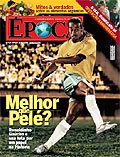 Epoca magazine asks:
Is Ronaldinho
better than Pelé?
In 2005, Ronaldinho assumed the paternity of João (named after his father). João's mother, Janaína Nattielle Viana Mendes, is an ex-dancer of a popular TV show in Brazil, Faustão. Janaína and João live in a penthouse in Rio de Janeiro, and have good relations with Ronaldinho and his family.

Despite all the fame and money, Ronaldinho is still simple and humble.
In an interview to Brazilian magazine Epoca, there was the following dialogue:"Q: What do you do with your money?; A: I give it all to my mother; Q: So, your mother takes care of your money?; A: No, she doesn't take care of it; the money is all hers.".
More recently, in yet another interview to Brazilian Magazine Época, which asks in the cover "Is Ronaldinho better than Pelé?", Ronaldinho declared: "Even if I were not paid anything to play, I would keep playing the same way".



Back to Top