Below, advertising
Ronaldo
«Football in Brazil
«Brazilian Players
«Brazil in the World Cups
«Germany World Cup 2006 BLOG

Full name: Ricardo Izecson dos Santos Leite.
Date of birth: May 15th 1982.
Place of birth: Brasilia, the administrative capital of the Brazilian Federal District.
Height: 1.82 m (6 ft). At age 12, KakŠ was considerably shorter than his father and brother; medical tests showed that his bones suffered growth delay; for two years, KakŠ was submitted to growth treatment, to reach normal height.


KakŠ was born in BrasŪlia. From age 4 to 7, his family lived in CuiabŠ, following his father, a civil engineer.
At age 7, the family moved to the city of S"o Paulo, in the neighbourhood of Morumbi, near the Stadium of S"o Paulo FC. As FIFA says, "Kaka fails to fit the Brazilian stereotype of the kid from the favela who first played the game in the street with a ball made from rags. Coming from a comfortable and cultured family, Kaka kept up his studies for as long as they were compatible with his profession.".

His talent was soon recognized. A professor called the family and suggested enrolling him in a football school. At age 8, KakŠ was playing with S"o Paulo FC, where he succeeded in all categories. At age 14, KakŠ used to wake up two hours early, to keep up with his studies; KakŠ managed to conclude the intermediary cycle (eleven years) in Brazil, before dedicating exclusively to football.
KakŠ is religious. Since early adolescence, he's been attending the evangelical Church Renascer.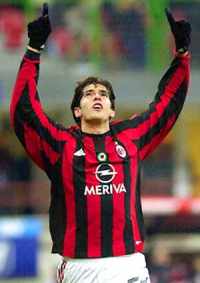 Religious, KakŠ
commemorates God
His religiosity grew stronger after an accident in 2000. During holidays, KakŠ dove into a shallow pool and beat the head against the floor; immediate exams didn't show anything. A few days later, while training in S"o Paulo, KakŠ felt a strong pain and found out that he had broken a cervical vertebra; KakŠ had to wear a treatment jacket for two months. Returning to football was uncertain; "the doctors said I was lucky; I am certain that it was God's will", says KakŠ.

In 2000, KakŠ was champion of the Junior championship, in S"o Paulo.
In 2001, he became professional; his first match was on February 2nd, and his first goal on February 5th. In the decision of the high profile Rio-S"o Paulo tournament, KakŠ (then CacŠ) scored the two goals that gave the title to S"o Paulo over Botafogo. .
On 31st January 2002, KakŠ debuted with the National Team, playing against Bolivia; on March 7th, against Iceland, he scored his first goal.
In 2002, KakŠ went to the 2002 World Cup. He played only a few minutes in the match against Costa Rica. In the final match, against Germany, when the Brazilian victory was defined, coach Scolari attempted to put KakŠ to play; the last images of the game show KakŠ waving desperately to the referee, asking for a break, but there was no time. KakŠ was, anyway, world champion.

S"o Paulo FC and KakŠ had a non-official agreement with Milan AC: he would stay in Brazil until 2004 and then would move to Italy; S"o Paulo could collect a few championships, and Milan would have a more mature player. However, feeling that other teams were talking to KakŠ, the Milan directors (particularly Leonardo, who played with the Brazilian team in the cups of 1994 and 1998) decided, in 2003, to antecipate the transfer.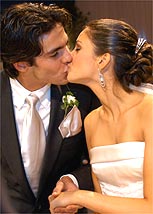 KakŠ was an instant hit in Italy. In 2004, Milan won the Italian league. In 2005, KakŠ was elected the best midfielder in Europe by UEFA.
In December 2005, KakŠ married Caroline Celico, who attended the same evangelical Church as him. In Brazil, KakŠ was as popular among men as among women; thousands of fan pages maintained by young admirers appeared when KakŠ was in Brazil, and failed to be maintained after he went away (and got married).

In 2006, only 24 years old, KakŠ is one of the main Brazilian players in the World Cup.
Despite the abundance of good players, coach Carlos Alberto Parreira already said that KakŠ will start as a principle. The groups formed by KakŠ, Ronaldinho, Ronaldo and Adriano is being called "the Magic Square" by Brazilian media and fans.


Back to Top