Brazil team faces hostily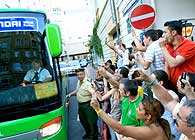 The Brazilian team faced some hostility yesterday, when leaving the hotel in Germany; several Brazilians were near the bus, shouting at the players.
Today, a few players arrived in Brazil.
In São Paulo, most of them preferred to leave the aiport through a back door. One of the few who faced the crowd was Cafu (in a quick interview, he said that "experience can win a Cup, as France is showing"), and Brazilians made it very clear how unhappy they were (to Cafu, shouting was "it's time to retire").
In Rio, the most expected was Parreira, but he also preferred to use a back door to escape the crowd and the journalists.
In contrast, in Argentina, the players were warmed welcomed back home.