Romário: the quest for the 1000th goal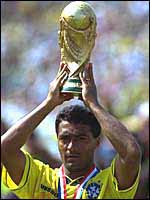 Romário
is one of the greatest players in History of Brazilian football.
In
1990
, he went to Italy but, injured, didn't play much.
In
1994,
, he was the greatest star of the Brazilian team.
In
1998
, injured, he went to France. The doctors tried to get him recovered but, a few days before deadline, against his will, he was dismissed.
In
2002
, he had a personal clash with coach Scolari and, against the will of the majority of Brazilians, he was also dismissed.
Today, aged 40 (he was born on January 29th 1966), Romário is pursuing an achievement: to score his 1000th goal. According to FIFA, in early 2006 he had 950 goals (other non-official statistics give him more than that).
If Romário manages to score the 1000th goal, he will be the third one to do it; only Pelé and Frienderich, both Brazilians, have done it; for comparison: Maradona score 375 goals.
Until last year, Romário was playing with
Vasco da Gama
. To help Romário, Vasco attempted to set up friendly (but official) matches against weaker teams, so that Romário could score a few extra goals.
This year, Romário is playing in
Miami FC
, in Florida, USA. On Friday 12th May, he scored two goals. See some of
Romario's goals
.
Go for it, Romário.