Roberto Carlos visits President Lula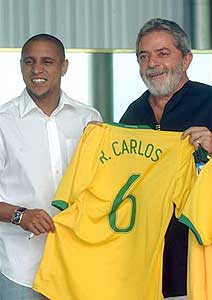 Yesterday,
Roberto Carlos
, the left defense of the Brazilian team, was admitted into the Palace of Alvorada, residence of the
President of the Republic
.
Roberto Carlos presented the President with a jersey.
Joking, Lula, who is a declared fan of football, said that he would give Roberto Carlos the tips on how to win the Cup.
Asked whether it wouldn't be aethical to use the Brazilian team to promote his campaign to re-election later this year, Lula said: "I don't know if I will run for Presidency again". Of course, nobody believed him.