Everything ready in Weggis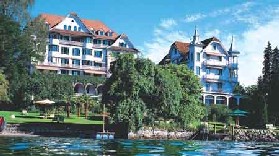 The
Weggis Hotel
, in Weggis, Switzeland, is ready to welcome the Brazilian team.
The hotel even prepared an artificial beach, by the Lake Lucern, which borders the hotel. The beach is small (only 15 meters long) and of black sand; the Brazilian Comission already warned the team that foot-volley is forbidden.
All 43 rooms of the hotel were booked by the Brazilian staff.
Travel sites like Tripadvisor inform that the average
price of a room in he Weggis Hotel
is around US$ 407.
Besides the hotel, the Brazilian team will use the structure of the
Scheizer Paraplegiker Zentrum
, the best center for rehabilitation of handicapped people in the world. All Brazilian players will go through medical tests on Tuesday and Wednesday, before starting physical activities.