Advertising by Google
Porto Velho, Rondônia
Area: 34.209 km2
Visit the map of Rondônia.
Population: 380.884 (est. 2004)

The name Porto Velho means "Old Port"; the city grew around a port, at the banks of river Madeira. Read more about the History of Rondônia.
With a history that was punctuated by tragedy, the Madeira-Mamoré Railway, built through the middle of the Amazon jungle, was officially opened in 1912. Next to it, the city of Porto Velho grew to become the capital of the present-day state of Rondônia. Having fallen into disrepair, the railway was no longer used after 1972 and relics are preserved in the Railway Museum which also houses exhibits that describe the heyday of the rubber exploitation in the state that was endowed with large numbers of rubber trees.
Because of semi-epical efforts put into its construction, this railway became a Historic character, theme of movies and books. To learn more, visit this site about Madeira - Mamoré Railway.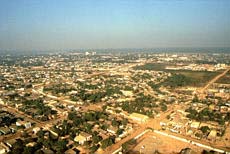 Nowadays, the railway is used for tourist rides. Only seven kilometres of track are fit for use but the journey includes the ruins of Madeira-Mamoré and its stations. The track follows the bends of the River Madeira and is a journey through the jungle along stretches covered by the hundred year old trees of the Amazon Rainforest.

Near the floating bars on the River Madeira, which are a meeting place for tourists and residents, the Railway Museum is one of the city's most important museums. The other is the Rondônia Museum, which houses the fossils of pre-historic animals and material relating to the natives who inhabited the region.

For those with a taste for adventure, eighteen kilometers from Porto Velho is the Teotônio Waterfall whose violent waters are in contrast with the calm of the fishing village of Teotônio.

More sites about Porto Velho:
Porto Velho official website. Maintained by the city of Porto Velho.
Talentos Brasil. Cultural, travel and commercial information about the city and the State.
Universidade Federal de Rondônia. The Federal University of Rondônia, in Porto Velho.


Back to Top