Advertising by Google
Teresina, Piauí
Area: 1.680 km2
Population: 714.318 inhab. (est. 2000).
See Map of Piauí.

The name Teresina is a tribute to Lady Teresa Cristina, Empress of Brazil, wife of D. Pedro II. Lady Cristina was so admired in Piauí that another city, Imperatriz, was named after Her. Likewise, Teresópolis, city in Rio de Janeiro, was named in homage to Lady Teresa Cristina.

Teresina was the first city in Brazil to be planned. It was designed in 1852 by a master builder in the form of a chessboard. Located 622 km far from Fortaleza, Teresina is the only capital of Brazilian northeast which was not built by the coast; because of this, Piauí is the only Brazilian State which is most developed in the interior than on the coastline.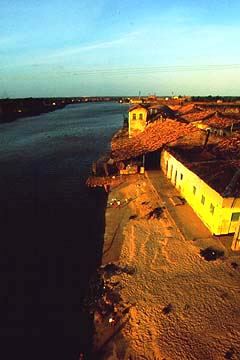 Situated at the mouth of the Rivers Parnaíba and Poti, it is known as the green city because all its streets and avenues are lined with trees, mainly mangoes.
These two rivers provide the city with beaches that are very popular during the period of drought between May and November when the waters retreat and form lakes surrounded by sandbanks.
The city also has beautiful sunsets and various monuments, in particular the church of St. Benedict built in 1886, with carved timber doors, and the 4 de Setembro Theatre in the neo-classical style, inaugurated in 1893.

Dating from more modern times is the church of Our Lady of Lourdes, built in 1961 and decorated with sculptures by the masters Dezinho and Expedito, the most famous sculptors in Piauí, and the gardens of the Karnak Palace - seat of state government - designed by Roberto Burle Marx, regarded as Brazil's greatest landscape architect.
The Museu Histórico do Piauí (Historic Museum of Piauí) has a large heap of fossils and ancient maps, most of them collected at the Parque Nacional das Capivaras, also in Piauí, the largest archaeological site in Brazil.
The Parque Nacional de Sete Cidades (Seven Cities National Park), 180 km far from the capital, has rocky formations that resemble seven cities, with streets, public squares and monuments.

Read more:
Teresina official site. Maintained by the city government.
Teresina Guide. Commercial guide, with plenty of photos and maps.
Universidade Federal do Piauí. The Federal University of Piauí, campus in Teresina.


Back to Top