Advertising by Google
Paraíba, Brazil

Area 56,584.6 km2 ; Population: 3,439,344 (2000)


Official website: http://www.paraiba.pb.gov.br/; Tourist Board


Important newspapers: Correio da Paraiba; All online newspapers in Paraiba


Map of Paraiba


Paraíba and João Pessoa
Paraíba is a State yet to be discovered, but the time is coming. Paraíba is half way between the rich historic sites of Pernambuco and the paradisiac beaches of Rio Grande do Norte, two States which have already entered the list of most visited Brazilian destinations.
Paraíba kept much of the historic past, has many untouched beaches to offer, and retains the tranquility which characterize the small villages.
Discovering the natural attractions of Paraíba is to know the state of pleasure and the leisure options that it can offer. Know the ecological Paraíba: from the coastline to the hinterland, the practice of radical and adventure sports is favored by picturesque places and by the geography of the State; the rural Paraíba is wonderful; the rich folklore, the craft and the paraibana cookery are incomparable; the religiosity is also a characteristic of every place on that State, that has impressive natural beauties and an architectonic suite that tells its great history.


Important cities in Paraíba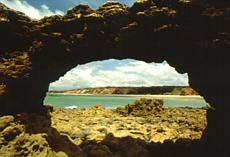 Capital city: João Pessoa.


Tourist Attractions and Events in Paraíba
Culture
Other sites
Back to Top