Advertising by Google
Belém, city of Pará
Area: 1070 km2 . Check out the map of Pará.
Population: 1 342 202 (Est. 2003)
Foundation: Jan. 12th 1616. Read History of Pará.
Weather in Belém

The name Belém is the Portuguese for Bethelem, the city where Jesus Christ was born; the city had a few other names before becoming Belém. Notice also that Brazil has a city called Natal, which means Christmas.

The city of Belém, capital of Pará, is full of indentations and recesses forming islands all around it; there are fifty five of these islets, most of which are wild and uninhabited, although some are home to small populations. These include the islands of Mosqueiro - fringed by fourteen fresh water beaches - and Caratateua which receive a large number of visitors in summertime. In addition to these and also near Belém, is the island of Tatuoca which is the location of the only geodesic station in Latin America, one of seven in existence in the world.


Situated in the Guajará bay, on the estuary of the Rivers Tocantins and Pará, the city began as a river port in 1616, immediately after the French were driven out of São Luís, the capital of the state of Maranhão.

Known as the "city of the mango trees" because of the large number of those trees growing there, Belém's historic buildings reflect cultural traces of the seventeenth century.
These buildings include the City Market for meat and the Iron Market for fish. Around the markets and forming part of the same complex is the quayside Ver-o-Peso market, like a picture postcard where colours, smells and flavours are all mixed together into a scene that is varied and original. The name "Ver-O-Peso" means "Check Out the Weight"; this is because a few decades ago all products sold were weighted on the spot, in manual balances, and the buyer wanted to check out the weight, to avoid frauds.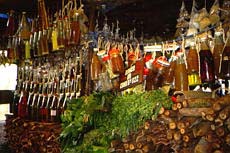 Tied up at the quay are picturesque fishing boats and canoes that unload a variety of products each day, from indigenous ceramic articles to herbs and aromatic roots from Amazonia.

In many ways, Belém's colonial architecture reflects the seventeenth century architecture of Lisbon in Portugal which served as the inspiration for the main housing projects of the time, with the frequent use of tile-hung facades. Many of the buildings at the end of the nineteenth century and early twentieth century also echo French architecture.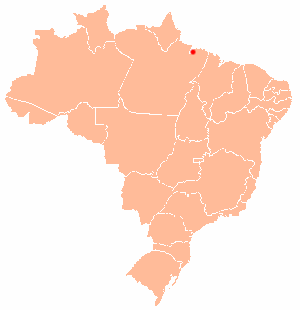 Belém in the map of Brazil
Belém is also famous for its Emílio Goeldi Museum; founded in 1866 and known world-wide as the most important centre for the study of and research into the natural history of the Amazon Rain Forest, the Emílio Goeldi Museum, in Belém has more than two thousand species of plants and around six hundred animals that are native to Amazonia, living free or in captivity in an area covering 52 thousand m2.

Read more about Belém:
Belém official site. Maintained by the city government.
Belém do Pará .de. A site about Belém and Pará, in German; includes several photos.
Universidade Federal do Pará. The Federal University of Pará, in Belém.


Back to Top