»Hilton Hotel Morumbi


Avenida das Nacoes Unidas, 12901 - Brooklin - Sao Paulo.
In 2007, when President George W. Bush visited Sao Paulo, he and his staff booked entired sectors of the Hilton Sao Paulo.

»Sofitel Sao Paulo

.
Rua Sena Madureira, 1355 - near Ibirapuera, the Central Park of Sao Paulo.
The 5-star facilities (including a tennis court and a heliport) and professional staff of Sofitel Sao Paulo await you in a great location in the city's business center, overlooking the lush green Parque do Ibirapuera.

»L'Hotel Porto Bay

.
Alameda Campinas, 266 - near Avenida Paulista.
This elegant hotel is a popular setting for fashion photo shots - the hotel itself is a fashion star. See video.

»Meliá Jardim Europa

.
Rua Joao Cachoeira, 107 - Itaim.
Deluxe and superior rooms are between 323 ft² and 355 ft² in size and equipped with single or king-size beds. Every superior room features a balcony.

»Grand Hyatt Sao Paulo

.
Avenida das Nações Unidas, 13301 - near Berrini Avenue.
The first Hyatt in Sao Paulo offers excellent location (neighbour to two major malls in Sao Paulo, Morumbi Shopping and Shopping Market Place), fine restaurants, and one of the most complete spas in town.

»Hotel Unique

.
Avenida Brigadeiro Luis Antonio, 4700 - near Ibirapuera Park.

»Massis Five Stars

.
Rua Luis Coelho, 80 - Consolação - near a subway station.
In the heart of the financial center of Sao Paulo.

»Fasano

.
Rua Vittorio Fasano, 88 - Jardins.
Fasano Family used to run one of the finest restaurants in Brazil, and recently expanded the expertise to the five star accommodation sector. With its elegant 1930s-inspired décor, this hotel is the place for those who want luxury with discretion.
Check also hotels in Rio de Janeiro for the Fasano branch in that city.

»Sheraton WTC Hotel

.
Av. Nações Unidas, 12559 - Brooklin.
Located inside the World Trade Center (one of the largest Convention Venues in Sao Paulo), Sheraton WTC combines modern architecture with luxury interiors. Facilities include a swimming pool, a gym and a state-of-the-art business centre with meeting rooms.

»Emiliano

.
Rua Oscar Freire, 384 - Jardins.
This is the poshest street of the poshest neighbourhood in Sao Paulo; Oscar Freire is the Rodeo Drive of Brazil.
With a staff ratio of 3 employees for each 1 guest, the Emiliano offers swift and personalized service.

The Etoile George V offers two high comfort options in Sao Paulo.
»Etoile George V Itaim

.
Rua Pedroso Alvarenga, 610 - Itaim Bibi.
The five-star Etoile George V Itaim offers the comfort and spaciousness of its suites, each featuring a fully-equipped kitchen, a separate living room and a bathroom with Jacuzzi; at the terrace, a heated pool overlooking the city landscape.
»Etoile George V Jardins

.
Rua José Maria Lisboa, 1000 - Jardins.
Each suite has a complete kitchen, a spacious living room with siting and dining areas, a balcony and a bathroom with bathtub.

»Maksoud Plaza

.
The first five star hotel in Sao Paulo; Frank Sinatra performed here in the 1980s.
Alameda Campinas, 150 - near Avenida Paulista.

»Gran Estanplaza Sao Paulo

.
Rua Arizona, 1517 - Brooklin.
The Gran Estanplaza is the best hotel of the Brazilian chain Estanplaza.
Located between Berrini and Nações Unidas, two of the most important business avenues in town, the five star Gran Estanplaza São Paulo offers luxurious services in an impressive building, where classic architecture is combined with Brazilian décor.

»Hotel Transamerica

.
Avenida Nacões Unidas, 18.591 - Santo Amaro.
Brazilian Chain Transamerica have hotels also in Bahia.
Transamerica Sao Paulo is considered the only urban resort in the city.
Being located in a more distant area, the hotel can afford a larger area; it sports a three-hole golf course and putting green, lighted tennis courts, a small soccer field and a large pool.
Transamerica is the hotel of choice of the teams which come for the Sao Paulo Formula One Grande Prix.

»Tivoli Mofarrej

.
Alameda Santos, 1437 - Jardins - near Avenida Paulista.
The 5-star Tivoli São Paulo Moffarej is located near the Paulista Avenue, the main financial street in Sao Paulo, offering tastefully-decorated rooms and a luxurious spa for discerning guests.


Hilton Morumbi Sao Paulo.
Approved by President Bush staff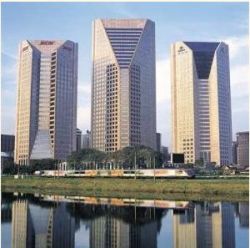 Book a room @ Hilton Sao Paulo




Sofitel Sao Paulo.
Beat the transit using the heliport.
Stay fit at the tennis court.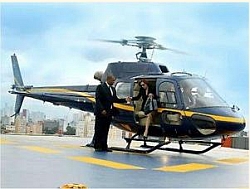 Book a room: Sofitel Sao Paulo




Grand Hyatt Sao Paulo:
Privileged location, high comfort,
and the best hotel spa in Sao Paulo.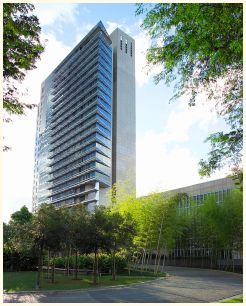 Book a room at the Grand Hyatt.