Dollar versus Real
The Brazilian currency is the Real (symbol R$). Read more about Real, the Brazilian currency.

For a table and graphic with the exchange rate for the past three months, visit O Globo (quick registration required).
For today´s exchange rate, check out the frontpage of the Central Bank of Brazil or this currency conversion site.

The graph below shows the value of the Real against the dollar from January/1994 to March/2005. Data prior to 1994 are less reliable, because Brazil was then affected by high inflation rates; read more about how Brazilian inflation was tamed.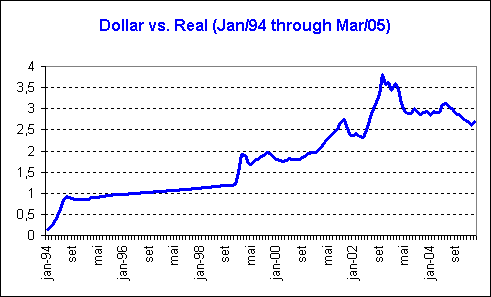 The source of data is IPEA - Institute of Applied Economics Research, an official agency; IPEA collects data from the Central Bank of Brazil; the full historic table of values of dollar vs. real used to create the graphic are here.

The graphic clearly shows that there were two different stages in the behaviour of the Real:
Stage one: Real versus dollar from 1994 to 1999
Stage two: Real versus dollar from 1999 to 2005


Back to Top